Inhabitants: 15.4 million
Kids: 4 million
Cinemas: 894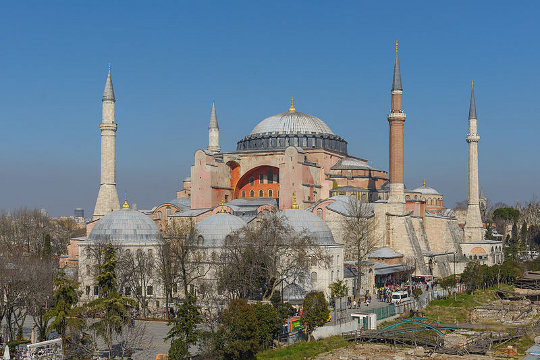 Istanbul: Hagia Sophia
Istanbul is the largest city in Turkey and the only transcontinental stop on this trip.

Founded around 660 BC as Byzantium, it was called Constaninople for nearly sixteen hundred years and served as an imperial capital for the Roman and Byzantine, the Latin and Ottoman empires before becoming known as Istanbul. The Bosphorus, which connects the Sea of Marmara to the Black Sea, divides the city into a European an Asian side. Istanbul is is a big exciting metropolis and full of stories.
In the year 2021, as we are in a world struggling with the pandemic, there are several museums that you can visit online until you can safely travel again. 
Firstly, you can visit The Istanbul Toy Museum, which was established by Sunay Akin, a famous Turkish writer and poet. The collection has over 4000 toys.
Secondly, you can visit Rahmi Koç Museum. Which will make you feel like you are traveling through time. You can find old boats, bicycles, electronic goods, personal heritage, foreign cars, tractors, and hundreds of different artifacts.

Last but not least, you can continue with Istanbul Archeology Museum. It is the first museum of Turkey and it has approximately 1 million artifacts collected from Ottoman Lands that belong to many different cultures.
When it is safe to travel again, you can start with a walk down Istanbul's famous Istiklal Street to Galata, the other side of the Golden Horn and home of the Genoese colony from the 6th to 15th century.
One of the most famous sights is the Hagia Sophia, originally a Greek Orthodox basilica (church), later an imperial mosque, and now a museum, with its 107 columns and Empereror's Door (a door which used to be for the Byzantine emperors only)
Directly opposite is Sultanahmet Mosque (The Blue Mosque) with its six minaret towers, various domes and balconies and carpet-covered floors.
And very close to both, you can visit Topkapi Palace, which in the 15th and 16th centuries served as the main residence and administrative headquarters of the Ottoman sultans.
Also, you can visit Basilica Cistern, which is one of the largest of several hundred ancient cisterns that lie beneath the city of Istanbul, Turkey. It was built in the 6th century during the reign of Byzantine Emperor Justinian I. 
Another highlight is a visit to one of the covered markets, like the Grand Bazaar with over 3,000 stalls selling carpets, leather goods, jewelry, spices, Turkish delight, tea, and much more.
Ferries with a beautiful view of the Bosphorus connect the European to the Asian side. Or also with a ferry, you could take a trip across the Sea of Marmara to the Princes' Island Büyükada and tour around the island with a bike! 
We can't wait for you to safely travel to Turkey again, and discover our colorful culture and city. Until then, to meet online, follow the sign-up instructions to be a part of the online jury!